Upcoming Shows
The next shows in 2015:
nothing! We are now doing some studiostuff like drinking coffee, smoking cigarettes and reading all the news in the famous rock-magz. By the way sometimes we play some instruments and record some really great material.
If you'd like to see us live - Hot Camshaft is now looking up for more shows coming in autumn / winter! Book us now!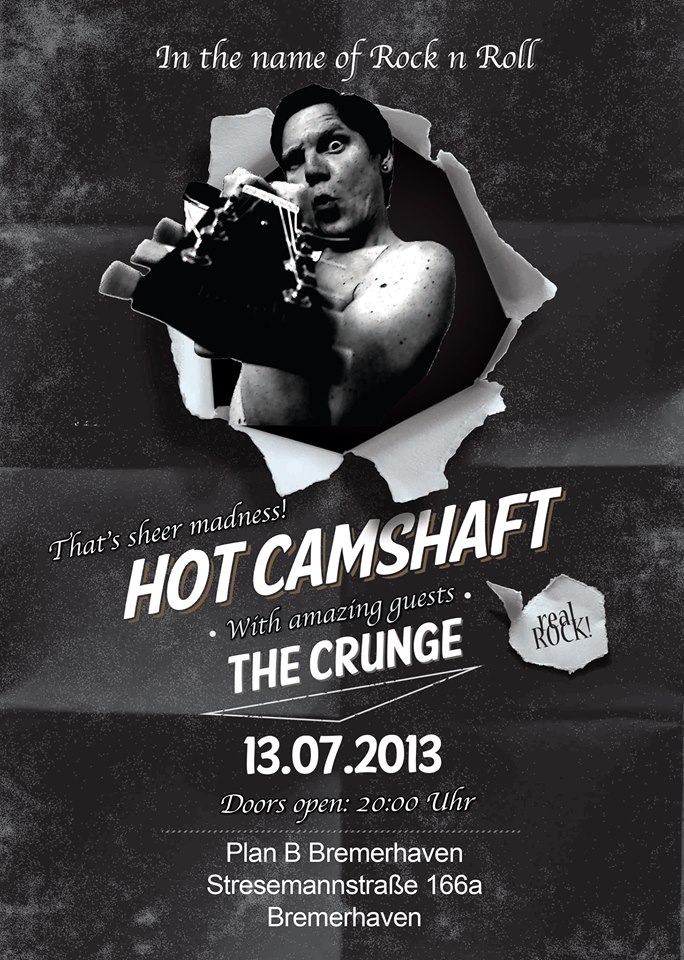 Shows in the past:

- 14.04.2007 Nienburg, supporting Torfrock
- 12.05.2007 Sittensen, Rock n Kustom
- 02.08.2008 Ovenstädt, bei Maik
- 15.11.2008 Lüneburg, Jackyl 'n Hyde
- 02.10.2009 Schwaförden, WG Party
- 28.11.2009 Lüneburg, Jackyl 'n Hyde
- 12.12.2009 Marklohe, Ahburs Schüne
- 26.12.2009 Minden, Papagai
- 27.12.2009 Brockensen, Junimond
- 19.03.2010 Wohlenhausen, Videodreh
- 20.03.2010 Dörentrup, Gasthaus Tenne
- 10.04.2010 Bremen, Schlachthof Kesselhalle
- 27.04.2010 Bremen, Meisenfrei
- 15.05.2010 Binnen, Labelparty RoyceRecords
- 25.06.2010 Bremen, Tower
- 31.07.2010 Binnen, C. C. Pöttker
- 21.08.2010 Minden, Rock City Cup
- 04.09.2010 Ohlendorf, Hofspektakel
- 11.09.2010 Bremen, Meisenfrei with Helliön
- 16.10.2010 Nienburg, Jazzkeller with Acid Queen
- 13.11.2010 Minden, Bunker
- 20.11.2010 Lüneburg, Jeckyl 'n Hyde- 11.12.2010 Marklohe, Ahbur's Scheune- 18.12.2010 Nienburg, Kulturzentrum- 26.12.2010 Sulingen, Jozz- 15.01.2011 Minden, Papagei- 09.04.2011 Reload-Slot, Sulingen
- 11.06.2011 Rockhouse, Hannover
- 12.06.2011 Rockhouse, Hannover
- 02.07.2011 Ford-Treffen, Bückeburg
- 26.08.2011 Muddy's, Bremen
- 12.11.2011 Hoka-Bar, Minden- 14.01.2012 Papagai, Minden
- 31.03.2012 Jozz, Sulingen
- 26.05.2012 Krätzeval Festival, Minden
- 03.11.2012 Jazzclub, Nienburg
- 08.03.2013 Garage, Lüneburg
- 13.07.2013 Plan B Musikverein, Bremerhaven
- 17.08.2013 Markt 15, Minden
- 19.10.2013 Schraubbar, Bückeburg
- 31.01.2014 Party in Kampsheide- 01.02.2014 Special Party in Hassel as a present - so don't betray this ;)- 22.02.2014 JOZZ in Sulingen with Motogiant and Powder For Pigeons! Come along!- 02.05.2014 Hamburg St. Pauli - Grüner Jäger with Red Tape Tendencies and Lobomobile- 17.08.2014 Stemwede Festival - umsonst und draußen- 04.10.2014 Farm Rock in Wietzen with 3 Sekunden Safran and 17 Seconds- 18.10.2014 Benefiz Concert, Kirche in Hoya with Terry Hoax and Mannschaft- 09.05.2015 Hilgermissen / Wechold - Peitsche with Absence of Malice